This week, February 5th to be exact, would have been William S. Burroughs' 100th birthday, and the event was widely commemorated. Burroughs, famed author of such works as Naked Lunch (1959) Junkie (1953) and Nova Express (1964), was considered by Norman Mailer to be 'the only American writer who may be conceivably possessed by genius.' He formed part of the illustrious Beat Generation which included Jack Kerouac and Allen Ginsberg, and his works were published by the equally experimental Grove Press and Olympia Press. Kerouac, a long time friend of Burroughs, was said to have provided the title for Burroughs' notoriously involved Naked Lunch. To further commemorate the event, the remaining journals and writings of Burroughs will go on display at the University of Kansas Libraries, donated by Burroughs' estate executor, James Grauerholz. The material was used as a source for Grauerholz's Last Words: The Final Journals of William S. Burroughs (2000).
Burroughs' Naked Lunch is notorious for its scattered prose, jumping from scene to scene in a style that came to be known as 'cut-ups', which he would use again in Nova Express. The author's influence was partly his addiction to and withdrawals from heroin. Thus Burroughs' own life was filled with scandal, famously and tragically killing his wife in a doomed and drunken game of William Tell. In his new biography of Burroughs, Call Me Burroughs: A Life (2014), Barry Miles writes: 'It was quite clearly an accident, but he felt that some bad part of him, some evil spirit in him, had motivated him.' Burroughs was also, despite his gritty demeanour, no stranger to celebrity culture, having appeared in a Nike advertisement as well as the video clip for U2's song Last Night on Earth. He was an artist, and not only in the figurative sense; his 'Shotgun Art' works look exactly as they sound, comprised of violence and primitive beauty at the same time.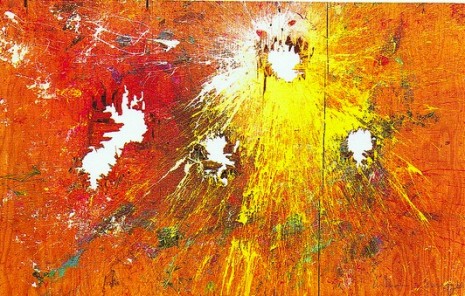 Burroughs' haphazard way of both painting and writing became strangely poetic, whether it was the ramblings of a madman or the thoughts of a disturbed and illiterate philosopher: 'I am a ghost wanting what every ghost wants-a body-after the Long Time moving through odorless alleys of space where no life is, only the colorless no smell of death…Nobody can breathe and smell it through pink convolutions of gristle laced with crystal snot, time shit and black blood filters of flesh.' Throughout his works, Burroughs consistently incorporated the theme of power and control within society. Burroughs died in 1997 at the age of 83, but he retains a powerful legacy, and with the recent closure of the Evergreen Review, which was notable for publishing Burroughs' stories, his significance continues to endure.