I've been out of the blogging game for a while now (since August, in fact), but for good reason; in between finishing off my PhD thesis, I have been reacquainting myself with books that have nothing (or very little) to do with academia. Below is my summer reading list, an eclectic mix of fiction, nonfiction, fictional travel writing, art, and short stories. Enjoy!
1. Hav, Jan Morris (2006, originally published in 1985 as Last Letters from Hav)
Blurb:
"Hav is like no place on earth. Rumoured to be the site of Troy, captured during the crusades and recaptured by Saladin, visited by Tolstoy, Hitler, Grace Kelly, and Princess Diana, this Mediterranean city-state is home to several architectural marvels and an annual rooftop race that is a feat of athleticism and insanity. As Jan Morris guides us through the corridors and quarters of Hav, we hear the mingling of Italian, Russian, and Arabic in its markets, delight in its famous snow raspberries, and meet the denizens of its casinos and cafés."
Interesting note: In the 2006 introduction by sci-fi great Ursula K. Le Guin, the author points out that following the original publication of Hav, travel agents had to deal with dismayed clients who were told they couldn't book a cheap flight to the illustrious city.
2. Lost Horizon, James Hilton, 1933
The classic tale of a group of travellers whose plane is hijacked before it crashes into relatively unknown territory. They are greeted by lamas of the now-illustrious utopian lamasery  known as Shangri-La. One of the most well-known literary adventure novels, the book is well-written, although it retains much of the kind of outdated behaviours and observations common in the 1930s. This fact notwithstanding, the book is very engaging. Great for those who want a bit of escapism.
3. Pastoralia, George Saunders, 2000
A weird and wonderful collection of stories, quite unlike anything you  may have read before… A satirical and somewhat scathing look at modern America, the stories are set in a run-down caveman-themed adventure park. Highly praised upon initial publication, Thomas Pynchon calls the work "graceful, dark, authentic, and funny." It is perhaps the strangest thing you'll read in a long while.
4. Buddha's Little Finger, Victor Pelevin, 1996
I particularly love Russian authors and literature; their dark sense of humour and bleak but unapologetic stance on society (as well as their unique way with words) makes them a thrill to read. Here we have Buddha's Little Finger, initially published as The Clay Machine Gun, and also published in Britain as Chapaev and Void. Another kind of adventure novel, though one intensely bizarre and psychedelic, the book follows the central character Pyotr Voyd, whose reality becomes subject to questioning. In one reality, Void is a poet fighting in the October Revolution alongside Vasily Ivanovich Chapaev. In another reality, he is in an asylum, and is unsure of which reality is real. Combining Russian pop culture with Buddhist philosophy, this particular work is a rare treat by an author described as "the psychedelic Nabokov of the Cyber Age".
5. The Princess Diarist, Carrie Fisher, 2016
From Pyotr to Princesses. I was very excited to hear about the publication of this book, ordering a copy in advance before it was published. I managed to read it in only a few sittings (and before the tragic death of Carrie Fisher and her mother Debbie Reynolds). As a fellow diarist, the book in thoroughly engaging, and for my inner gossip intensely satisfying. Fisher's writing is, as always, frenetic and full with untamed intellectual energy. While her long-speculated-now-confirmed affair with Harrison Ford is the book's main selling point (and the diary entires and details on Carrie's turbulent experience in the affair truly great reading), the remains of the book and Carrie's in-depth reminiscences make for amusing yet heart-felt reading. The book is tireless from start to finish, and ends on a positive note from someone who defined and changed an entire generation of readers and film enthusiasts.
6. Goya, Robert Hughes, 2003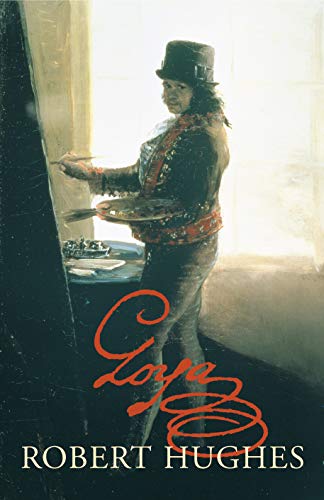 Now for a bit of nonfiction. Acclaimed Australian art critic and theorist Robert Hughes died in 2012. Arguably best known for The Shock of the New and The Fatal Shore, Hughes tackles his subject not long after being in a now well-known car accident. I picked up a $2 copy of his extensive treatment of Spanish artist Francisco José de Goya y Lucientes at a monthly Chatswood Library book sale, having always appreciated the dark and romantic works of Goya (Witches' Sabbath remains my favourite, and I was delighted to see a great colour picture in the book). Hughes analyses the artist's life and works with his his usual eloquent, insightful writing, but also approaches the artist's works from a personal account.